It goes without saying that your helmet is going to be the most important piece of protective lacrosse gear that you own as a men's or boys' lax player. It's also an item that can last for many years. And those are two important things to consider when you're navigating through retail websites, staring down the price tags on these things. 
You probably don't need the most expensive youth lacrosse helmet on the market to get quality protection, but neither should you hastily go for the cheapest option before learning a bit about how the best youth lacrosse helmets stack up. We take you everything you need to know about boys lacrosse helmets below. 
Components of a lacrosse helmet
The 4 most important anatomical features of a lacrosse helmet to keep in mind are 1) the shell (the hard exterior part), 2) the liner (foam cushioning inside the helmet), 3) the facemask (the metal bars in front of the player's face), and 4) the adjustment mechanism (usually elastic straps).
Who makes lacrosse helmets?
The leading and most trusted brand in lacrosse helmets, by quite a wide margin, is Cascade. Most lacrosse players wear Cascade helmets.
How much does a lacrosse helmet weigh?
Lacrosse helmets usually weigh somewhere between 2 and 3 pounds, although some of the new releases from Cascade have managed to knock it down to just under 2 pounds. Most players don't have any issue with the weight. 
Are hockey and lacrosse helmets the same?
No. While bearing a lot of resemblances and sharing many of the same features, hockey and lacrosse helmets are different and should not be substituted for one another. The main difference that is most visually obvious is that lacrosse helmets extend downward from back to front at a sharper angle, compared to the more rounded design of hockey helmets. This slanted design allows lacrosse helmets to 1) provide more protection to the neck and throat area, and 2) provide a better downward field of vision so that players can track ground balls more easily in their peripheral vision.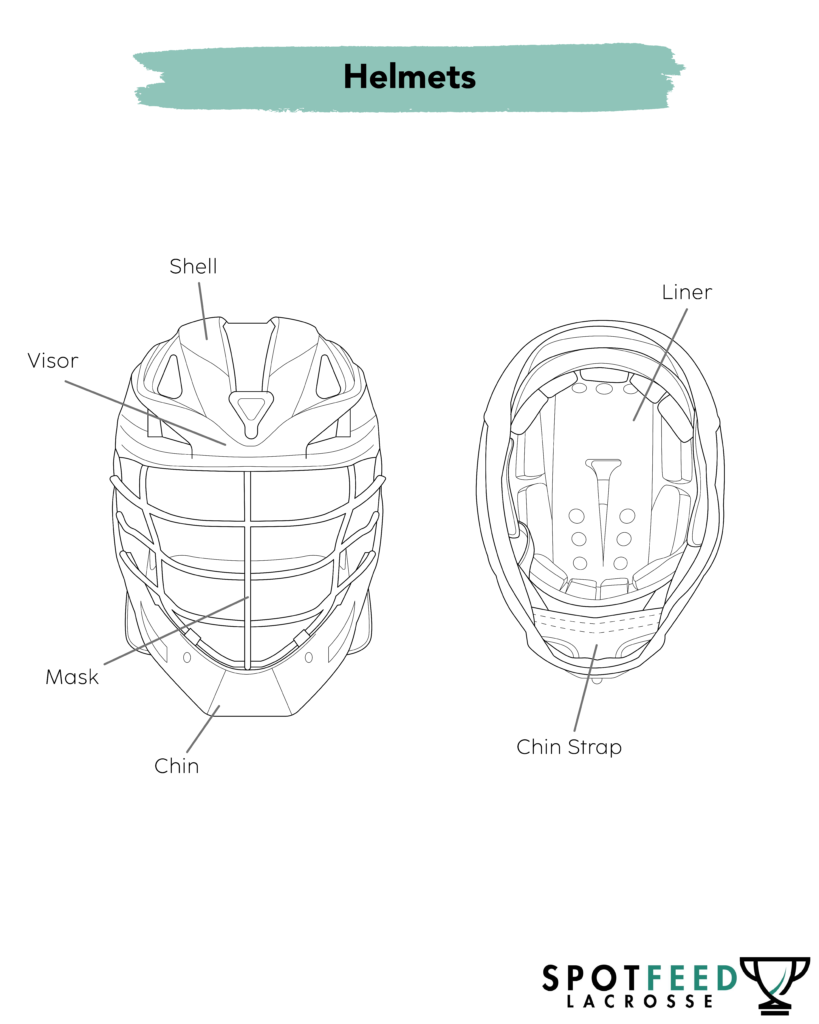 If you've never played a full contact sport before, you may not understand what differentiates one helmet model from another–they all look pretty similar, after all. But if you have played a contact sport, you will quickly realize that the most important deciding factor in choosing a helmet is fit.
Having a helmet that fits right is important for many reasons.
First and foremost, bad fit is dangerous. A helmet that is too small might not cover your entire head and neck area, and one that is too large will move around too much, which means that it will not absorb impacts in the way it's designed to. If discomfort occurs after 30 minutes of wear, then it's likely because the helmet is too small. If the helmet rattles when moving rather than fitting snuggly, then it's likely too large.
Additionally, if your helmet doesn't fit right, it might be harder to see out through the bars of the metal facemask, which not only makes it harder to play well but also impairs your ability to see incoming hazards around you and react in time. It might even cause you to play with your head tilted at an unnatural angle to compensate for the impaired vision, which again further increases the risk of injury.
The better it fits, the better your lacrosse helmet protects you.
So the most important advice, if you take nothing else away from this guide, is to make sure the helmet you buy fits your child properly.
If possible, try to find a brick-and-mortar retailer so that you can actually try on helmets in a store and get assistance from someone knowledgeable about the products. If this is not possible, or you just prefer to shop online, make sure to search for and consult a sizing guide before buying anything. It's also not a bad idea to take note of your online retailer's return policy, just in case the helmet doesn't fit properly when it arrives on your doorstep.
Everyone's head shape is a little bit different, so no sizing guide is perfect, but this helmet safety guide from Cascade Lacrosse has a lot of useful information to supplement what you find on particular product pages across various websites.
Best Youth Lacrosse Helmets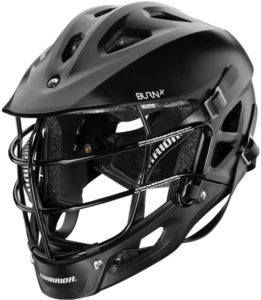 The Warrior Burn Junior youth lacrosse helmet is a great budget option, a helmet model "developed specifically for the youth lacrosse player under the age of 12," according to the Warrior product description. It is one-size-fits-all, which is facilitated by a "quick and easy velcro pull-tab adjustment system." This ability to easily adjust your lacrosse helmet is a great feature to have.
Even if a lacrosse helmet fits "perfectly," it still may need to be adjusted periodically for a variety of reasons. From year to year, the size would of course need to be adjusted according to the natural growth of your child during that time. But it's also important to make small adjustments when your child gets a haircut, for instance, or even in between (and sometimes during) games, since things may loosen up on their own over time.
The Warrior Burn Jr is not the most advanced helmet model on the market, but it meets NOCSAE safety standards and will serve its purpose for a young player, as long as it fits right. It has a simple EPP liner–a standard kind of foam used in most lacrosse helmets, which is lightweight and holds up well over time–and a vinyl nitrate layer to add just a bit more comfort and protection.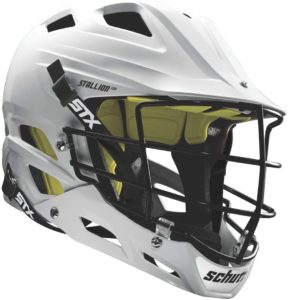 STX is one of the most trusted brands in the game of lacrosse and luckily they, too, offer a nice budget option for a youth lacrosse helmet. The STX Stallion 100 youth lacrosse helmet has a few features that help distinguish it from the Warrior Burn Junior, although both helmets are great deals if you're looking to save a bit of money
The STX Stallion 100 lacrosse helmet was actually designed in partnership with Schutt, a football helmet manufacturing company. STX therefore boasts that this helmet is tough enough to "withstand ferocious impacts experienced in football, which are for the most part usually harder than lacrosse collisions."
The shell is made out of ABS plastic, which is light enough in weight to be comfortable for children to wear, without compromising on strength. The main liner for the Stallion 100 is EPP, just like the Warrior Burn Junior, but the additional liner layer of EVA will likely add a bit more comfort.
The Stallion 100 comes in 3 sizes: Youth XS, Youth S, Youth M/L. It features an elastic strap adjustment system, which is more typical for lacrosse helmets than the velcro on the Burn Junior. While the velcro might be easier to use, especially for young children, the adjustable strap technology provides a bit more precision with fit. Comes only in white and may be a bit tough to find in stores, but is easily available across websites.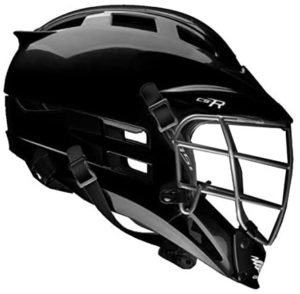 Warrior and STX are great lacrosse brands, but when it comes to lacrosse helmets specifically, Cascade is the undisputed leader in the game. And while it's generally not necessary for youth players to have elite-level equipment, the price gap to go from the Warrior or STX youth options to the Cascade options is slim enough to absolutely justify going with one of these last 3 helmets on the list for the many benefits they offer.
A brief glance at any of Cascade's product pages or links on the internet will quickly reveal just how proud they are of the science and technology behind the component parts of their helmets. Without getting bogged down too much in any of that, there are a few general points worth noting about the many benefits of a Cascade helmet in general and about the Cascade CS-R Junior in particular.
The Cascade CS-R features EPP as its base liner, just like the other lacrosse helmets we've seen so far, but also has memory foam installed to provide even more comfort and a better fit. Cascade helmets also have great ventilation spaces, which will help keep your head cooler during games and will keep your helmet cleaner and better preserved over time, as it will be able to air out well between games.
The Cascade CS-R maintains the same high standard for material quality that is characteristic of adult Cascade helmets, but brings to the table little tweaks that are optimized for players younger than 12.
According to Cascade's product page, the CS-R "is designed to fit the anatomy of players less than 12 years of age as the rear third of the liner pivots to grasp the head, ensuring a secure fit." The liner system is also described as being "engineered to specifically address the collisions that take place at the U12 level." Even the facemask takes into account the smaller size of a child's face, featuring one less metal bar than usual, which "increases vision and reduces weight."
The Cascade CS-R is one-size-fits-all, but comes with lots of color options: the shell is available in black, white, silver, blue, or red, and several other parts of the helmet can be customized with as many as 15 different color options. Cascade allows you to design all of this via an extension on their website for no additional charge (see picture below). Alternatively, Lacrosse Unlimited will also allow you to customize your Cascade helmet, offering a lower base price but charging $5.99 per color selection.
Full Customization 
Some Customization
No Customization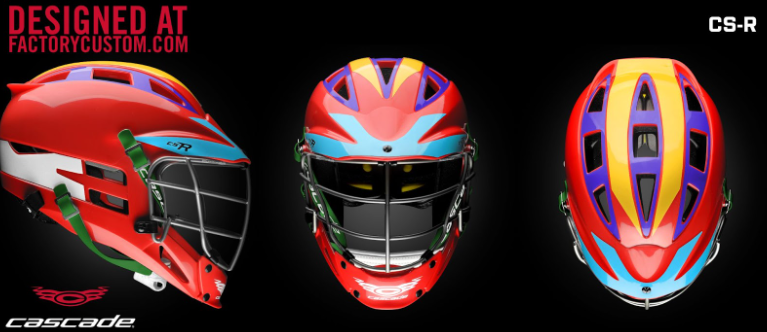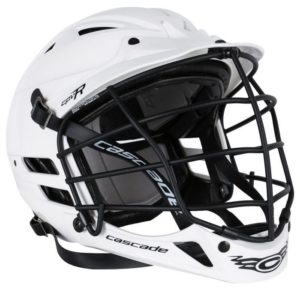 The Cascade CPV-R helmet has a lot in common with the Cascade CS-R, but there are some noteworthy differences as well. Both are marketed as youth lacrosse helmets, but the Cascade CPV-R is not as specifically tailored toward this as the CS-R, meaning that it might be a good pick for a youth player at the intermediate level of experience.
Both the Cascade CS-R and Cascade CPV-R have the same R-series shell and the same liner and ventilation technology, but the facemask differs in 2 key ways: 1) the youth-conscious 3-bar layout of the CS-R is replaced with the more conventional 4-bar layout, and 2) the bars themselves are slightly V-shaped. This "Chevron Mask" gives players a slight advantage in the vertical peripheral vision that is crucial for quickly locating and recovering ground balls.
Another unique feature of the Cascade CPV-R is its "SPRfit adjustable ratchet system," which "allows players to make micro-adjustments on the fly." The helmet is still equipped with the normal adjustable straps that allow for the full range of fit adjustments, but messing around with those usually requires you to remove the helmet and can take quite a bit of tinkering to get things right. So it's nice to have a little slider in the back that can be used to adjust the helmet more quickly–a nifty little convenience to have during a game.
The Cascade CPV-R comes in 4 sizes–XXS, XS, S/M & M/L–and has even more color options than the Cascade CS-R: the shell is available in 15 different colors, as are several other parts of the helmet, and the mask is available in black or silver.
Full Customization
Some Customization
No Customization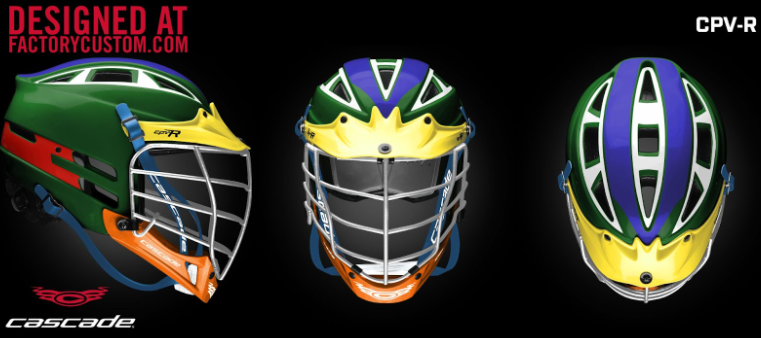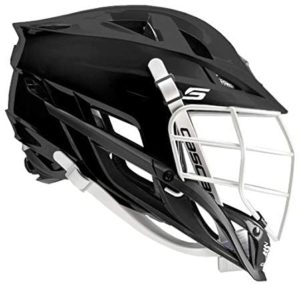 Touted by Cascade as "the pinnacle of protection for youth players," the Cascade S Youth helmet is just a smaller (for players 12 and under) version of the standard Cascade S lacrosse helmet, one of the most advanced helmets available. In fact, the majority of lax enthusiasts and even pro players would probably rank the Cascade S as their top choice for the best lacrosse helmet currently on the market, as it is the official helmet of the Premier Lacrosse League. There are a variety of features that justify these lofty claims and the equally lofty price tag.
The Cascade S Youth lacrosse helmet has the best ventilation compared to any other Cascade helmet. It also may have the best peripheral visibility, with a decreased wire diameter on the top bar of the mask.
It is designed to have its center of gravity at the middle of the crown of the head, and the liner is comprised of 3 separate regions of foam pads–one in the front part of the helmet, one in the sides and back, and one on the crown area–to account for differences in impact and protection needs on different parts of the helmet.
The Cascade S also sports the same SPRfit adjustable ratchet technology as the Cascade CPV-R, while adding a couple of other unique features: 1) a "reinforced dual-material chin piece that provides improved stiffness," and 2) a narrower top bar on the facemask to improve vision.
Finally, the Cascade S Youth offers a boatload of color options. The shell comes in a variety of colors and even a few different finishes–matte, carbon, platinum, metallic–for a total of 22 options to choose from. The face mask, too, comes in 3 different finishes and a few different colors, along with several other parts of the helmet being customizable in any of 16 colors.
Full Customization
Some Customization